Obituary of Professor Ann Trotter ONZM
Dr Ian McGibbon
2022-09-13
NEW ZEALAND
INTERNATIONAL HISTORY
This article was originally published in the Sept/Oct edition of the New Zealand International Review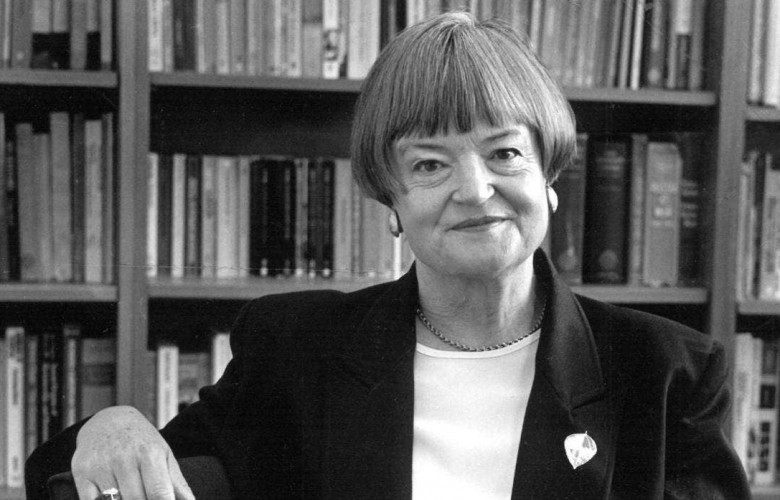 Alison Ann Trotter ONZM, 23 January 1932–14 July 2022.
New Zealand lost one of its leading historians and the New Zealand Institute of International Affairs one of its stalwart supporters with the recent passing of Professor Ann Trotter.
Born in Hawera, where her father was general manager of the local farmers' co-operative and farmer in his own right, Ann numbered among her siblings businessman Sir Ron Trotter; one of her two sisters, Judith, had a distinguished career in the foreign service.
Ann's education began at Hawera Main School. Her high school years were spent as a boarder at St Cuthbert's College in Epsom, Auckland; she was head girl in 1949. She then went to the University of Otago, graduating with an MA before undertaking a year-long teacher's training course in 1954. She left on an extended OE in the following year, sustaining herself with a number of teaching assignments.
Returning to New Zealand in 1959, Ann took a position at Epsom Girls Grammar School, teaching history and social studies. Her advent was welcomed by the pupils. 'She was a modern, with it, a vibrant, wonderful woman who really knew her stuff', one of them later recalled. 'She was an amazing lady and we hero-worshipped her.' Another, Helen Clark, who was later to become New Zealand's second woman prime minister, extolled her as one of two women who influenced her during her school years and expressed her good fortune in having someone 'who talked of Vietnam'.
By 1968 she had real prospects of being made headmistress, but her focus had shifted. She abandoned school-teaching to undertake further academic study in the field of Asian history in London. With the assistance of a British Council grant, she completed an MA at the School of Oriental and African Studies. In 1969 Dr Ian Nish, on his way to renown as a diplomatic historian of Japan, invited her to undertake a PhD under his supervision at the London School of Economics, beginning an academic association that would continue for the rest of her professional life.
Ann returned to New Zealand at end of 1973, drawn back to the University of Otago by Professor Angus Ross to teach Asian history. She joined the faculty in 1974. During her early years at the university, she married fellow academic Dr Stephen Mandel; the marriage would later be dissolved after Mandel's move to the United States.
Ann became a leading authority on New Zealand's diplomatic history, and engagement with Asia in particular. In 1990 she published New Zealand and Japan, 1945–1952: The Occupation and the Peace Treaty, which remains the standard work on the subject. A member of the management committee of the annual Otago Foreign Policy Schools from 1975 until retirement in 1997, she directed three schools: 'New Zealand and China' (1986), 'New Zealand, Canada and the United States' (1987) and 'Fifty Years of New Zealand Foreign Policy Making' (1993). In each case, she edited the conference papers for publication. Later, she became involved in a project on Japan–New Zealand relations overseen by the late Roger Peren, contributing a chapter on the period 1900–37 to the book Japan and New Zealand: 150 Years, which appeared in 1999s.
Despite her many achievements in New Zealand history, Ann's primary scholarly focus remained East Asia's international history in the 1930s. Her PhD thesis formed the basis of her book Britain and East Asia 1933–1937, published in 1975. She had earlier published several short textbooks: The Continuing Revolution: China since 1900 and Tradition and Enterprise: Japan Since 1870 (both 1970). Later in her career she was invited to edit the East Asia series of British Documents on Foreign Policy. Professor Barbara Brookes, in her eulogy at Ann's funeral, recalled that:
"When Ann learned the size of the task, which she wrote to me was 'for 20 volumes of between 400 and 500 pages', she was astounded. But she added, 'Fortunately I am not the fainting type & probably I will manage the task'. She did of course, [despite the task stretching] finally to fifty volumes of editing and annotating on a huge scale: a remarkable achievement of great benefit to other scholars and students of international relations."
Apart from this monumental effort, Ann was a regular contributor to books and journals on aspects of British East Asian diplomacy in the 1930s, her most recent effort appearing in 2016.
After a period as a visiting professor in the Department of International Relations at the University of Tokyo in 1991–92, Ann in 1993 became the first woman to hold the position of assistant vice chancellor for humanities at Otago. 'Ann's leadership was characterized by "verve and style" along with tremendously hard work', according to Brookes, who lauded her as 'a role model of great style and substance, of great loyalty and kindness, and a friend with an astute appraisal of human foibles'. Ann's contribution to the wider historical profession included chairing the Advisory Committee of the Historical Branch of the Department of Internal Affairs in the late 1990s. Ann's achievements were recognised nationally at the time of her retirement in 1997, as a professor emeritus, when she was appointed an officer of the New Zealand Order of Merit for her services to historical research.
After retiring from the University of Otago, Ann shifted to Wellington. In 2000 she served on a working committee established by the University of Canterbury to review the university's handling of a controversial Holocaust related MA thesis. She also accepted appointment as a senior fellow in Victoria University of Wellington's Centre for Strategic Studies. She served as a member the government's Public Advisory Committee on Disarmament and Arms Control (PACDAC) from 1997 to 2003, and was deputy chair for part of this time.
Early this century Ann undertook a commission to write a history of a group of Catholic sisters, the Little Company of Mary. She ended this work, Mary Potter's Little Company of Mary: The New Zealand Experience 1914–2002, which appeared in 2003, with a teaching of Mary Potter: 'The future does not belong to those who are content with today, rather it will belong to those who can blend vision, reason and courage in personal commitment.'
Ann also took an active role in the NZIIA, which she had joined in 1974. She was on the Otago branch's committee from 1975 until her retirement, serving as secretary in 1976–77 and chair in 1985–87 and 1990–93. She was a member of the four-person NZIIA delegation that visited China in 1986 and she contributed to the NZIIA's New Zealand in the World series. She became a member of the Standing Committee in 1998 and contributed much to its discussions over the next fourteen years, serving also on its Research and Publications Committee, which she chaired from 2008 to 2010. In 2010 her immense contribution to the NZIIA was recognised when she was made a life member.
As editor of the NZIR I greatly appreciated Ann's sustained interest and support. While in Dunedin, she had been a corresponding editor from the magazine's inception in 1976, and in 2003 she joined the editorial committee, remaining an active member until just a couple of years ago.
Ann's retirement was busy. Apart from her ongoing academic interests, she was a keen tennis, bridge and croquet player, and a supporter of New Zealand Symphony Orchestra. She travelled extensively, often with her sister Judith, especially to enjoy performances of Wagner operas at both Bayreuth and a variety of other overseas locations.
A committed and productive scholar, an influential and well-remembered mentor, a warm and congenial companion and a good and valued friend, Ann will be missed by all who knew her, while many that did not will benefit in the years ahead from the numerous enlightening publications she leaves as her enduring legacy.
This article was originally published in the September/October edition of the New Zealand International Review. To subscribe, become a member of the NZIIA or purchase a copy here.
Back To Top
Membership
NZIIA membership is open to anyone interested in understanding the importance of global affairs to the political and economic well-being of New Zealand.