William David McIntyre OBE, 4 September 1932–11 September 2022
Ian McGibbon
2022-11-29
NEW ZEALAND
INTERNATIONAL HISTORY
Originally published in the November/December edition of New Zealand International Review, Vol 47, No.6, 2022.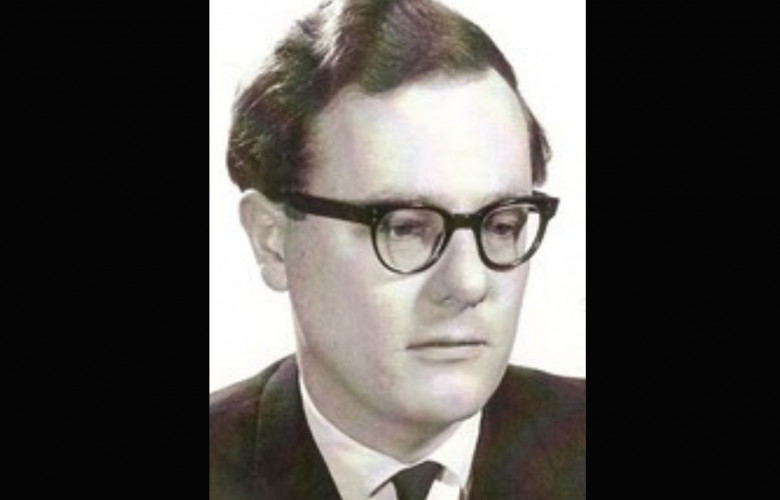 Members of the NZIIA and the historical profession were saddened by the sudden passing in Hutt Hospital on 11 September of one of New Zealand's most influential and productive historians, David McIntyre.
David passed away shortly after his 90th birthday. He was a victim of Covid, having tested positive on 19 August.
David's roots lay in Hucknall, Nottinghamshire, where his father was a Congegrationalist minister. At the age of eight, while the Battle of Britain raged, he went as a boarder to Caterham School in Surrey, and remained there for ten years. For half that time, his father was a prisoner of war in Germany, having been captured while serving with the British Expeditionary Force in France.
When he turned eighteen in 1950, David himself became liable for military service. During the next two years, he served in the Royal Corps of Signals and was commissioned as a second lieutenant; he remained a part-time officer in the Territorial Army until 1962. Taking advantage of a scholarship for studious officers, David went to Peterhouse, Cambridge University, where he graduated with a BA (Hons) in 1955. A Fulbright scholarship then allowed him to complete an MA at the University of Washington in Seattle in 1956. During the next three years, enrolled in University College London's School of Oriental and African Studies, he prepared his PhD thesis on 'British policy in west Africa, the Malay peninsula and the south Pacific during the secretaryships of Lord Kimberley and Lord Carnarvon 1870–1876', graduating in 1959.
While sat the University of Washington David met Marion Hillyard, a graduate of Brigham Young University in Utah. They were married in 1957, and would have four sons and a daughter. Marion was active in the Church of Jesus Christ of Latter Day Saints (Mormon Church), and David also joined the church. After this marriage ended during the 1980s, he married Marcia King in 1993.
During his American stint, David gained some teaching experience as a teaching fellow at the University of Washington in 1955–56, and later lectured at the University of Maryland. From 1959 to 1965 he lectured at the University of Nottingham on Commonwealth and American history. He was also a visiting lecturer at the University of British Columbia.
David came to New Zealand in 1966 to take up a position at the University of Canterbury, and was soon appointed professor of history at the young age of 34. As a collegial head of school for a substantial period, he relished battling bureaucracy. Among his activities was chairing the Canterbury branch of the Association of University Teachers in the late 1960s. He served until 1997, when he retired as emeritus professor.
At a Student Christian Movement gathering in 1969, David extolled the importance of the 'lonely search' in library or laboratory, before suggesting that 'the essence of a university teacher was that he was also a practitioner in his subject, and hopefully a creative practitioner'. This philosophy underpinned his university career.
Perhaps influenced by his experience in England during the Second World War and army service following it, he had an interest in defence policy and strategy. In 1969 he published Neutrality, Non-alignment, and New Zealand and six years later he created a postgraduate course on New Zealand defence. Between 1979 and 1994 a trilogy of books on the subject — The Rise and Fall of the Singapore Naval Base, New Zealand Prepares for War: Defence Policy 1919–39 and Background to the ANZUS Pact 1945–55 — appeared.
David also contributed to more general New Zealand history. To assist students, he edited Speeches and Documents on New Zealand History (1971), which would be used with profit by a generation of students. He also edited the journal of New Zealand's first premier, Henry Sewell; this 1980 publication earned him the F.P. Wilson Prize in New Zealand History. He was a long-time editorial adviser to the Auckland University-based New Zealand Journal of History.
David's main academic sphere, however, was always the decolonisation of the British Empire and the creation of the Commonwealth. The Round Table described him as 'without question one of the leading historians and analysts of the modern Commonwealth of the last half-century'. His thesis work had examined imperial policy in the colonies but, in keeping with the tenor of the times, his focus soon shifted to the transition that arose as colonies gained independence. His first book, Colonies into Commonwealth, was published in 1966 (the year he arrived in New Zealand). In the following year, a revised version of his PhD thesis, The Imperial Frontier in the Tropics, 1865–75, also appeared. These works established David as an authority on imperial and Commonwealth history — a status he would retain for the rest of his life. He published Britain and the Commonwealth Since 1907 (1970); The Commonwealth of Nations: Origins and Impact, 1869–1971 (1977); The Significance of the Commonwealth, 1965–90 (1991); British Decolonization, 1946–1997: When, Why, and How Did the British Empire Fall? (1996); A Guide to the Contemporary Commonwealth (2001) and The Britannic Vision: Historians and the Making of the British Commonwealth of Nations, 1907–48 (2009).
While professor in Christchurch, David did most of his writing before breakfast because such work was impossible during that day because of teaching and other duties at the university. In all, he wrote, edited or co-edited more than a score of books, all of the highest quality. He was also a keynote speaker at numerous conferences on Commonwealth affairs, such as 'The Commonwealth at War' at Oxford University in 1998; writer of academic journal articles; and reviewer of books. He was a member of the International Advisory Board of The Round Table, publishing his last article in it in August. Given his interests, David no doubt took especial pleasure at being made an officer of the Order of the British Empire for services to historical research in 1992.
David also contributed to the wider historical profession outside academia. Serving on the advisory committee for the Department of Internal Affairs' Historical Publications Branch in the 1970s and 1980s, he was unwavering in his support for the branch at a time when attitudes in some universities, especially in the north, were quite negative. He was friends with the then chief historian Ian Wards and often stayed with Ian and his wife when in Wellington for meetings or research. He supported Ian's efforts to get the Dictionary of New Zealand Biography project underway and wrote a number of entries for it. Later, he served several terms on the more broadly configured Historical Advisory Committee between 1988 and 2000. Late in this period he chaired the oversight committee for the Oxford Companion to New Zealand Military History project.
David's scholarship did not falter with his retirement from his chair. He became a research associate at the MacMillan Brown Centre for Pacific Studies. He established a nice routine of heading for London during the northern summer, spending much time researching in the British national archives, the most important repository of documentary material relating to Britain's colonial possessions. In this period, he and Marcia also collaborated on editing Tour of Duty, the journal of a midshipman who served in Australian, New Zealand and China waters at the time of the Treaty of Waitangi. In 2006 he published Shifting Starr — A Presbyterian Drama: St. Andrew's at Rangi Ruru, 1956–2006.
In retirement David continued to write on aspects of the Commonwealth, Oxford University Press publishing his last study, Winding Up the British Empire in the Pacific Islands, when he was 82. He also attended all but two of the biennial meetings of Commonwealth heads of government (Chogms) between 1987and 2011, as well as a number of Commonwealth ministerial meetings: health (2001), finance (2002) and education (2003). His authority was recognised by Commonwealth participants when he was invited to serve as a consultant to the Committee on Commonwealth Membership set up by the Commonwealth Secretariat in 2006 and chaired by Jamaica's prime minister. David drafted the committee's report, which was accepted by Commonwealth heads of government at the Kampala Chogm in 2007.
David made an immense contribution to the NZIIA, which he joined in 1968 when the Christchurch branch was formed. He was vice-chairman of the branch from 1968 to 1972 and chair from 2001 to 2007. In 1970 he was part of the NZIIA delegation led by NZIIA President Sir Guy Powles to a conference in Canberra co-sponsored by the Australian Institute of International Affairs and the US Institute of Defence Analysis which considered the role on ANZUS in the Asia–Pacific area in the 1970s. David represented Powles and gave a paper at the Conferencia del Pacifico in Viña del Mar, Chile, later the same year. He was a keynote speaker in the NZIIA's 1972 conference in Christchurch on 'The Commonwealth Past, Present and Future.
David's impressive list of publications under the NZIIA banner include: Britain, New Zealand and South East Asia in the 1970s (1969), Dominion of New Zealand: Statesmen and Status, 1907–1945 (2007) and important chapters in Pacific Horizons (1972) and Defence Perspectives (1972). He also contributed chapters to three of the four volumes so far published in the New Zealand in World Affairs series.
David was the NZIR's media representative at thirteen Chogms, an arrangement that greatly facilitated his access. Even after he stopped attending the meetings, he continued to review Chogms. In all, he wrote assessments of seventeen Chogms for the NZIR. The last, on the Kigali Chogm in Rwanda this year, was published in this journal just five days before he passed away.
David's contribution to the NZIIA received well-deserved recognition in 2010 with his installation as a life member. He remained active attending conferences and meetings and reviewing books for the NZIR to the very end.
Following the Christchurch earthquakes, David and Marcia moved to Lower Hutt in 2014. David's leisure interests included architecture and railways.
David passed away just three days after the Queen. There is a sad irony in his funeral being on the same day as the Queen's, for he would have relished analysing the impact of this event on the Commonwealth. Albeit in very different spheres, he and the Queen shared several qualities. Like her, he was dedicated to his profession, and diligent in the performance of his role as educator and author. He inspired others by his example. His enthusiasm for historical research, his unselfish willingness to share his findings, and his activity long into his older age — all demonstrated a Queen-like commitment and perseverance. And like Her Majesty, David has left an impressive and valuable legacy — the large body of published works that will be used to good effect far into the future. A good and generous friend to many and a much-respected teacher and scholar, he will be greatly missed.
Back To Top
Membership
NZIIA membership is open to anyone interested in understanding the importance of global affairs to the political and economic well-being of New Zealand.