Welcome to NZIIA Podcasts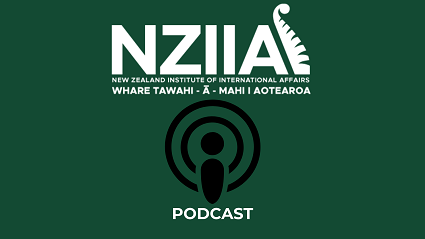 NZIIA's podcasts have been created by the NZIIA Youth Panel.
On the NZIIA podcast we talk about all things international, from trade to geopolitics to diplomacy.
In the fifth episode of the NZIIA podcast we discuss Afghanistan.
Alex, Patrick, and Tanis discuss Afghanistan. From breaking down Afghanistan's long history of conflict and intervention to failed attempts to restore stability and peace, to the terror attacks of 9/11 and their decades-long consequences. What the future holds for Afghanistan, its people, and the wider world are also explored beyond the financial and human cost normally associated with this complicated topic of international relations.
In the fourth episode of the NZIIA podcast we discuss recent issues in international law.
Alex and Jordan from Victoria University Law School talk to Vinod Bal, an international law researcher who has worked in Vietnam and Berlin and has completed his dissertation at the University of Waikato. They discuss recent issues in international law, including the developing area of climate change law, and share some views. Vinod then talks about his ground-breaking dissertation on the extent to which international law protects transgender and non-binary persons from discrimination.
In the third episode of the NZIIA podcast we discuss careers.
Alex and Patrick chat to Jackson Calder, a recent graduate from Victoria University who has started his own geopolitical risk and futures modelling firm. We discuss the current transition from university to the IR space, the importance of understanding risk and futuring tools for policy, and why we should all be futurists.
In the second episode of the NZIIA podcast we discuss Wargaming.
Alex and Lachie talk to James and Helen of the newly established wargaming society. They discuss the background and conception of the Wargaming Society, what wargaming is, its importance in understanding international relations as well as its application to other fields.
In the first episode of the NZIIA podcast, we tackle COVID-19.
Through looking at the overall numbers, breaking down the situation in India, and NZ's plan to roll out vaccines in 2021, the NZIIA Youth Panel shares their thoughts and insights on one of the biggest international relations topics in decades.
Membership
NZIIA membership is open to anyone interested in understanding the importance of global affairs to the political and economic well-being of New Zealand.