Russia's invasion of Ukraine: A morality test of the Indian Foreign Policy
Sandeep Sharma, Chair, NZIIA - Christchurch Branch
2023-05-01
ASIA
GEOPOLITICS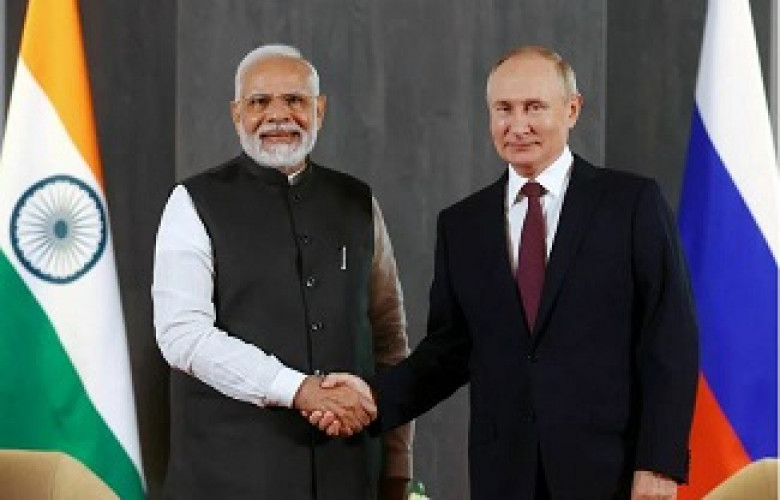 On 24th February 2022, Russia launched a full-scale offensive in Ukraine, leading to the outbreak of a war
While the west has a black and white approach to this war, east is somewhat divided in its response. Particularly India's response to the conflict and its position on Russia has been a topic of global debate.
India's stance on the Russia-Ukraine conflict has been characterised by a careful balancing act, taking into consideration its strategic relationship with Russia as well as its commitment to the international rule-based order and values. While India abstained from taking a clear position on the conflict on international forums such as the United Nations Security Council (UNSC) and the United Nations General Assembly (UNGA). In September 2022, Indian Prime Minister Narendra Modi became the first world leader to speak, in front of the media, to the Russian President Vladimir Putin about the Ukraine conflict, during a bilateral talk at the Shanghai Cooperation Organisation (SCO) Summit. Modi emphasised the impact of the conflict on energy, food, and agricultural securities of developing nations, and called for Russia to choose the path of democracy, diplomacy, and dialogue. This move by India sent a strong message to the world about its stand on the conflict, while also displaying its comfort in expressing its views to an old ally.
However, it also raised questions about whether India can be pressured by the west into a morality test of its foreign policy?
India's relationship with Russia has been historically strong, with mutual respect and warm relations between the leaders of both countries. The Russian Revolution in 1917, was closely watched by Indian freedom fighters such as Mahatma Gandhi and Jawaharlal Nehru. The British were concerned about the influence of Russian communism on India's freedom struggle, leading to the introduction of The Public Safety Bill in 1928. India established diplomatic ties with the Soviet Union post-independence in 1947 and ever since the relationship has grown stronger.
During the Cold War, India maintained a policy of non-alignment and did not align with either the United States or the Soviet Union, although its ties remained closer with the USSR in terms of economic and military assistance.
India's defence reliance on Russia increased significantly after signing the Indo-Soviet Treaty of Peace Friendship and Co-operation in 1971, during its war with Pakistan. India was concerned about the growing closeness between Pakistan and China with the US, leading to a shift in its non-alignment strategy. Despite attempts to diversify defence suppliers, Russia remained India's biggest exporter of defence equipment post-Cold War, although there were some efforts to deepen the strategic partnership with the US through the Indo-US agreement in 2005.
India's difficult relations with its neighbours, Pakistan and China is also guiding its response to the Russia Ukraine conflict. While Pakistan has been a dynamic situation for decades, China is currently dominating the attention of India's border security forces. India, which relies on Russia as its major defence supplier, cannot afford to have an antagonistic relationship with Russia while dealing with the challenge posed by Chinese soldiers positioned on the Indian border. India has been dealing with a two-front problem with Pakistan and China, but the conflict with China has been particularly challenging. The border skirmish between China and India in 2020 was a turning point in their relationship, challenging India's assumptions about mutual understanding and stable borders. India's foreign ministry S Jaishankar has been vocal about its strained relationship with China since then. Given the live situation at the border with China, India must be pragmatic in its response to Russia in the current conflict with Ukraine to avoid antagonising its main military supplier.
India's current foreign policy has evolved greatly since early decades of gaining independence and the cold war. In the first decade of the 21st century, India played a role in regional power balancing and faced security challenges such as the Kargil war with Pakistan and terrorist attacks. This led to the normalisation of relations with the US but strengthening of relations with Russia.
In 2014, Narendra Modi became India's Prime Minister, and the country's foreign policy saw a paradigm shift towards aggressive global engagement, with a focus on regional security and dominance. Modi's foreign policy is more realistic, using lessons from the past and economic drivers to guide India's diplomacy, including increasing bilateral trade, attracting investments, and privatising state-owned businesses. Modi's first term saw numerous foreign trips to build relations with other countries. Today, India's foreign policy is driven not only by its ideological choices of world peace, but also by historical experiences, current needs, and future aspirations. India's foreign policy is based on its national interest, which may not always align with ideologies and morality.
As the conflict continues, India's stance has continued to evolve based on the developments on the ground and its assessment of its national interest. India's approach to the conflict reflects its pursuit of a balanced and pragmatic foreign policy, considering multiple factors and stakeholders involved, while upholding its values and principles. India's response to the Russia-Ukraine conflict is guided by its self-interest and its efforts to contribute constructively to the international community. As a confident country on the global stage, India is navigating through challenges at home and abroad, including its relationships with Russia, the US, and China. While India has been sympathetic to Ukraine's situation, it must also consider its defence dependence on Russia, which has reduced over the years. India is increasing its domestic production capabilities through initiatives like Make in India, but also recognises the reality of China-Russia access. India aims to keep channels of communication open with Russia while also being prepared to mediate between Ukraine and Russia when needed.
Back To Top
Membership
NZIIA membership is open to anyone interested in understanding the importance of global affairs to the political and economic well-being of New Zealand.